When it comes to making one's everyday diet healthier, ways to achieve that goal are plentiful, including eating more greens, avoiding red meat, and cutting down on glucose intake.
However, before trying these changes and more, it is best to start with the basics first, specifically with the water one drinks.
Given how vital water is to our bodies, you must always assure its safety and healthiness prior to consumption. For the common ways of drinking water, such as straight from the tap, bottled water, or with a regular filter, these requirements are not always guaranteed since they are still at risk of contamination.
But with the help of an excellent water purifier like the Wells The One, safe and healthy drinking water is better assured of.
Slim and compact for maximum space savings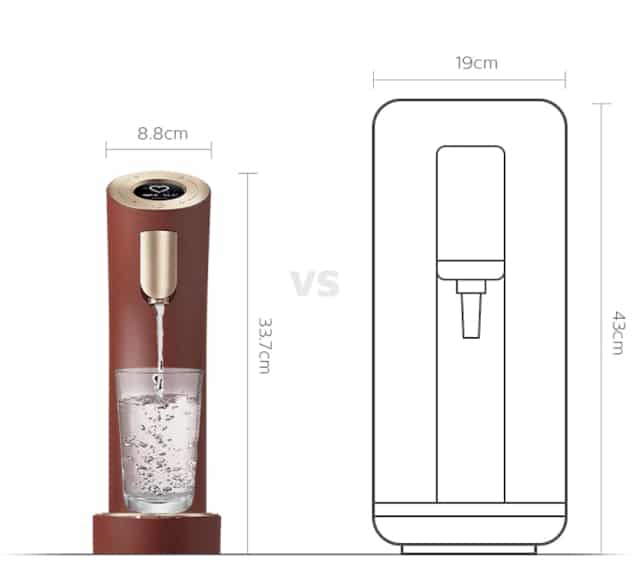 Traditional water purifiers available today tend to come in big and bulky sizes and occupy a lot of space in the kitchen, making the whole room more crowded than it seems. With the Wells The One, safe and purified drinking water no longer comes with that drawback due to its revamped form.
Designed at only 8.8cm wide and 33.7 cm tall, the Wells The One is an ergonomically designed water purifier system that boasts an ultra-small water dispensing faucet that can be placed anywhere in the kitchen, with the actual purifying system being subtly installed under kitchen sinks or island counters.
Given its sleek, modern, and minimal aesthetic, the Wells The One can effortlessly merge into your current kitchen setup without any hassle.
Self-maintaining direct-dispenser system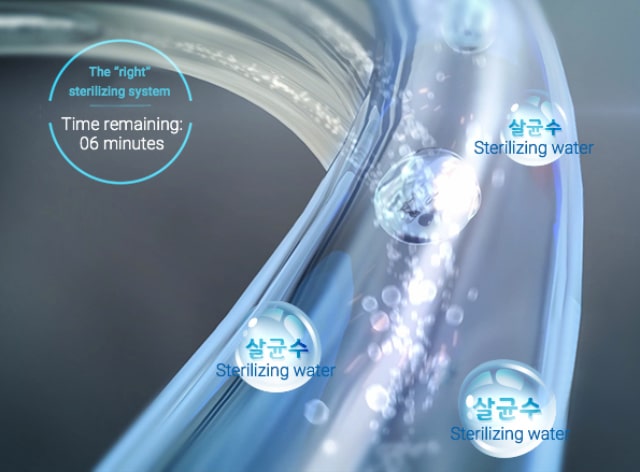 Unlike most water dispensers in the market, the Wells The One does not make use of any chilling tanks or reservoirs to store hot or cold water, a system that is prone to contamination. Instead, it sources raw water straight from the tap.
However, compared to regular filters and other systems, which are rarely cleaned or maintained, the Wells The One processes the raw water in its tubes with a thorough automatic sterilising technology.
This system completely sterilises all of its super bio water pipes (which needs no periodic replacement) every three days for maximum hygiene care. Moreover, it features an automatic water drainage system that empties all of its water pipes and circulates new water if unused for 24 hours for total peace of mind.
9-step purification system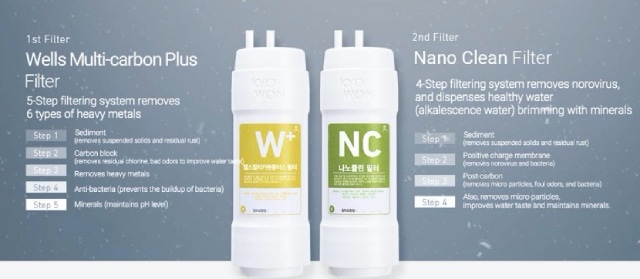 Considered the heart of the entire system, the Wells The One uses a 9-step purification process that utilises powerful and eco-friendly filters certified by the US National Sanitation Foundation (NSF) to completely eliminate seven types of heavy metals and other impurities like bacteria in the water.
Besides the filtration of these harmful compounds and microorganisms, the filters used also provides essential benefits such as:
improving the water's taste
balancing its pH levels
retaining all beneficial minerals
Lastly, the faucet's built-in H+ cartridge comes with anti-bacterial ceramic balls and a mesh net that serves as the final layer that cleans your water at the very end of the process.
Precise temperature control for all your beverage needs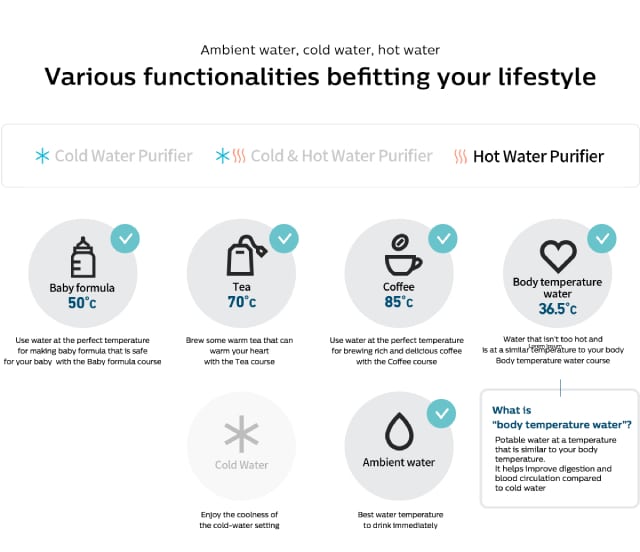 The Wells The One's modern aesthetic does not apply only to its looks but also its functionality.
The alkaline water dispenser comes equipped with a 2.8-inch full-colour display that features an easy-to-use wheel touch system that provides users control functionalities such as changing the volume of dispensed water as well as its temperature.
Thanks to its smart and precise temperature control, one can easily choose between six levels of temperature ideal for everyday beverages, such as baby formula, tea, and coffee.
In addition, users can also choose warm water that is similar to their body temperature, which is proven to improve digestion and blood circulation.
Added convenience with Passive Infrared Sensor (PIR)
With a passive infrared sensor onboard, the Wells The One can automatically detect when users are in the vicinity and automatically prepares to dispense water ahead of time, providing either refreshingly cold or perfect hot water at any time, all the time.
180° body-spin functionality for ease of access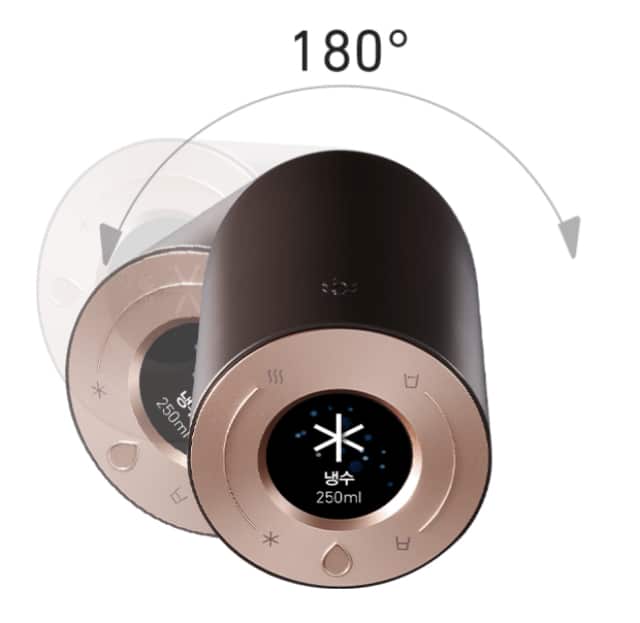 Whether placed on an island counter or kitchen sink, the Wells The One can supply water from many angles thanks to its 180° spin capability, enabling it to dispense water in whichever direction is required.
Conclusion
With a robust and convenient core filtration system paired with a modern feature set, the Wells The One water purifier is the ideal solution to having the best of everything: access to an unlimited supply of the best, safest, and most refreshing drinking water, modern and convenient user experience, and minimal space consumption in the kitchen.
However, at Wells Singapore, our selection of water purifiers is not limited to our Wells The One. Our collection also includes the Wells TT and Wells TTUV+, every one of our water purifiers is specially designed to add its own unique touch to one's home, in order to heighten health and wellness. Refresh yourself with style and be one step closer to healthy living.