Safe and drinkable water is the one precious resource that we can't go without daily. With the invention of the commercial water purifier, having easy and convenient access to this resource has become the norm in every household worldwide.
Hence, the emergence of Wells TT to make way for smoother and healthier consumption and use of water. It boasts a smart hot water supply system, thorough water filtering system, and True Tankless technology.
With innovation and progress in mind, we at Wells will be giving a detailed overview of one of our latest water purifiers, the Wells TT.
Truly tank-less technology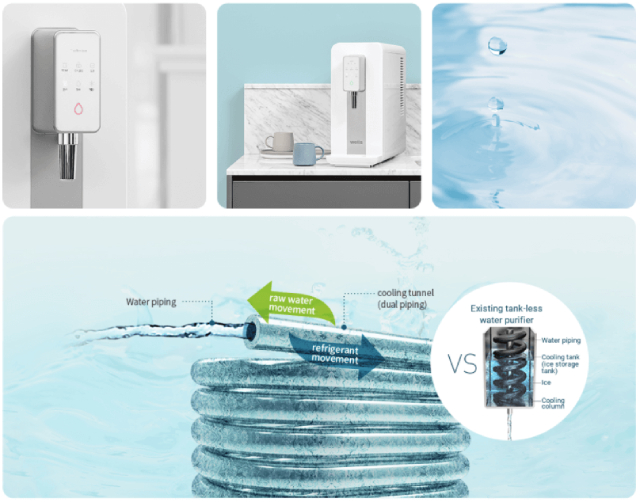 Unlike the older generation of water purifiers/dispensers, the Wells TT foregoes all kinds of tanks or reservoirs that hold water. Sourced straight from the tap, it is a true tank-less direct-dispenser type water purifier that provides cleaner, cooler water with the help of patented technology that uses an all-stainless steel dual cooling-water piping system. The technology is exclusively available only in Wells water purifiers; boosting hygiene and cooling performance, and removes the need for a cooling tank.
In this system, coils of stainless-steel tubes equipped with an enclosed-type dual tunnel cooling technique allow raw water in one pathway and refrigerant movement in another to pass through simultaneously, resulting in an unlimited supply of cold water.
This new class of water dispenser and purifier provides many key benefits that transcends conventional water purifiers/dispensers.
Low risk of external contamination
Since water is never stagnant in this new system, the risk of external contamination is dramatically lower compared to other models in the market.
On-demand and unlimited cold water
With the help of astonishingly fast cooling technology, users can enjoy cold water whenever they want, unlike tank models that necessitate waiting for as long as 20 minutes whenever the reservoir runs out.
In fact, the Wells TT is capable of producing cold water at an average temperature of 6°C indefinitely.
With its grade-1 energy efficiency (similar to the 5-tick energy rating in Singapore) and on-demand and tank-less nature mentioned previously, no reservoirs are involved that constantly maintain the temperature of stored water, which is the primary cause of high-power consumption.
Cold water can be indulged in anytime of the day, as the water dispenser can dispense refreshing cold water immediately at different volumes.
Healthy and clean water through the 9-step purification system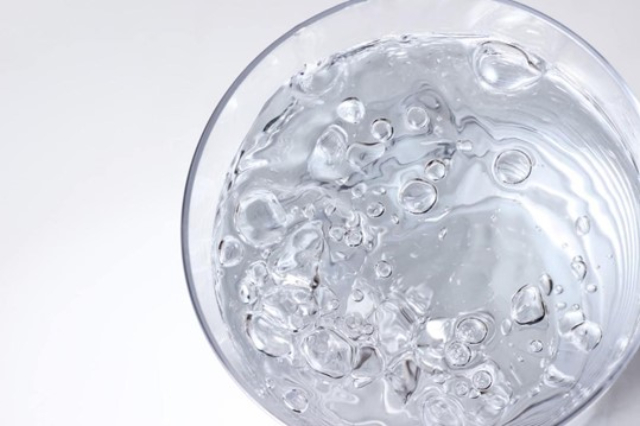 Apart from being at the right temperature, safety is another requirement when it comes to the water we drink to stay hydrated.
With Wells' comprehensive 9-Step Purification System onboard, healthy and clean water is dispensed. In addition, Wells conducts rigorous water quality testing to ensure the water purifier eliminates 7 types of heavy metals, 88 different types of harmful microorganisms.
Recognised as the most powerful and effective filtering system in Korea, this purification system uses two 8-inch long filters made from eco-friendly materials certified by the United States National Sanitation Foundation (NSF).
Sophisticated temperature control for all your beverage needs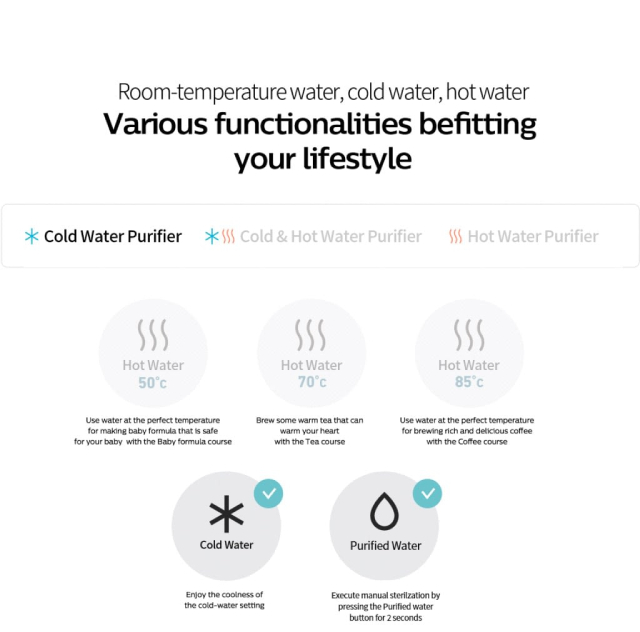 With sophisticated smart features installed, the Wells TT water purifier boasts great convenience and precision with its 3-step temperature control that allows you to dispense hot water only when you need it to.
Wells' instant hot water technology also allows one to configure the purifier to produce hot water at three precise temperature levels: 85°C, perfect for brewing a delicious and rich cup of coffee; 70°C, the ideal temperature for an afternoon tea; and 50°C, the usual standard for most baby formulas. Otherwise, you can set it to produce 25°C room temperature and 6°C cold water.
Conclusion
With plenty of features and innovative improvements over previous models, the Wells TT is a class-leading tankless water dispenser that lets homeowners enjoy the best-tasting purified water all year long, making it an essential equipment that aspires to help one achieve a healthy lifestyle.
Besides our Wells TT water purifier, we have a collection of cutting-edge water purifiers with convenience, style, and functionality. From our Wells TT UV+ to our Wells The One water purifiers, each one is uniquely made to fit the different lifestyles. With a water purifier, switch up your daily lifestyle and habits to make way for enhanced wellness.